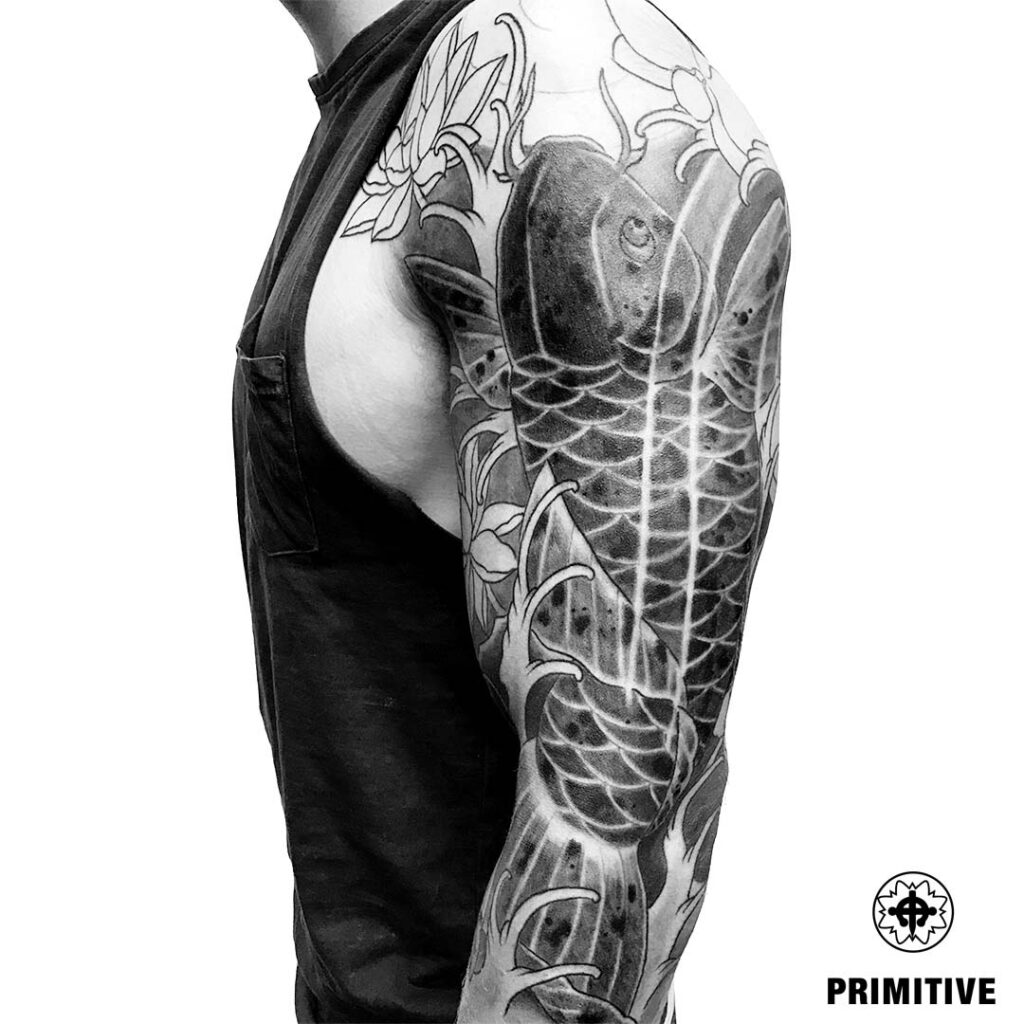 Koi fish tattoo originates its roots from the Japanese culture where 'Koi' relates as a crap fish. Koi Tattoo signifies an inner meaning and a form of symbolism. 'Koi' word is taken from the Japanese phrase 'nishigikoi' which is commonly known as 'Crap Fish'. Koi Tattoo in Perth, Australia featured in a wide spectrum of colors and their design is available in different beautiful patterns.
Koi Tattoo in Perth reflects a deeper meaning for those who choose it as a part of their body art. The significance of the Koi tattoo can vary depending on the orientation of the fish and its color. From the recent past, Koi Tattoo is a common topic of interest in the tattoo industry. As this tattoo art backs its roots in the Japanese and Chinese culture, Koi fish represents strength, prosperity, determination, perseverance and good luck. The respect for Koi Fish Tattoo impacts a huge amount of admiration and esteem for the Asian people. These Koi tattoos reflects an important Asian symbol and a popular pattern for tattoo design.
Important Facts of Koi Tattoo:
The decorative fact of these Koi Fish Tattoo can be seen in gardens and parks of different countries as a sign of good luck fortune. They were first raised in Japan in the year 1850 and which became a delight for an eye. But by the 20th century, more than 20 different types of Koi Fish tattoo were established featuring various color combinations and diversified tattoo patterns. Apart from being attractive, they are suitable and are loved by both men and women. Another important reason behind this mind-boggling tattoo design is that Koi Tattoo in Perth emulates the symbolism of wealth, power and determination. Here at Primitive Tattoo Shop, with the help of Marc Pinto a renowned Tattoo expert and tattoo artist in Perth, we provide some of the best Koi Tattoos in Perth. Some of our works include:
i) Colored Koi Fish Tattoo
ii) Koi Fish and Lotus Flower Tattoo
iii) Dragon Koi Fish Tattoo
Koi Tattoo is renowned to be one of the most popular choices when it comes to selecting a tattoo design. The main reason behind it is that they are attractive and feature some vibrant colors which have drawn the attention of many.
Sculpturing the Best Koi Tattoo in Perth:
Our custom design tattoo shop in Perth is uniquely designed and is renowned to be among the best tattoo venues in Western Australia. We do pride ourselves in providing some of the best Koi Tattoos in Perth and you are sure to feature an atmosphere where people of all ages can develop their personal style statement.
Apart from Koi tattoo in Perth our custom design tattoo shop feature tattoos that include Mandala Tattoo, Japanese Tattoo, Dragon Tattoo, Hand poke tattoo, Realism Tattoo, Realistic Tattoo, Black and Grey tattoo and many more. Why wait when you develop your style statement by having one of these Koi Fish Tattoos as Primitive Tattoo Shop guarantees you a great tattooing experience.